News
Former NFL Punter Brian Hansen to Speak at Sports Banquet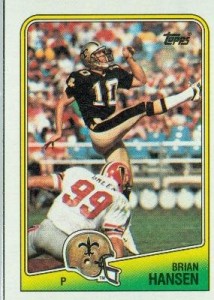 Canton-Inwood Area Health Foundation is excited to announce former NFL all-pro punter Brian Hansen and SDSU head football coach John Stiegelmeier will be the guest speakers at the "Sports Banquet" fundraiser Friday, March 11.
The Sports Banquet will be held at Canton High School. A tailgate supper will be served from 5:30 to 6:30 p.m. followed by the speakers and a live auction. Tickets are $20 for adults and $15 for youth. Tickets may be purchased at Sunshine Foods – Canton, Security State Bank- Canton and Inwood, Sanford Canton-Inwood Medical Center, Sanford Health Beresford Clinic, Sanford Health Inwood Clinic, Haisch Pharmacy and City of Inwood Office.
Hansen was born and raised in Hawarden, Iowa, where he attended West Sioux High School. He went to college at the University of Sioux Falls from 1979 to 1983, where he played football as tight end/punter and pole vaulted in track.
He was drafted by the New Orleans Saints where he played from 1984-1989 and was selected to the Pro-Bowl as a rookie in 1984. Hansen also played for the New England Patriots, Cleveland Browns and New York Jets. Currently, Hansen is State Director for South Dakota Fellowship of Christian Athletes in Sioux Falls.
The winningest football coach in South Dakota State history, John Stiegelmeier has built the Jackrabbit program in a yearly contender within the Missouri Valley Football Conference and the Football Championship Subdivision.
Overall, Coach Stig has led the Jackrabbits to a 120-86 record in 18 seasons. With Stiegelmeier at the helm, SDSU has reached the FCS playoffs four times and won first-round contests in the last three seasons. His 37 victories in MVFC play rank fourth in league history, while his 52 overall wins since joining the league in 2008 rank in a tie for 10th among all-time league coaches.
Aside from coaching, Stiegelmeier is active in the Fellowship of Christian Athletes, serving on the state board of directors and as the organization's SDSU representative.
Proceeds from the event will fund the activities of Canton-Inwood Area Health Foundation. Canton-Inwood Area Health Foundation was established in 2009 with funds created by the sale of Canton-Inwood Memorial Hospital, assisted living and related assets to Sanford Health.
Foundation goals include supporting projects that impact community health and inspiring additional community investments in projects that benefit health and wellness opportunities; sustaining and improving health care in the Sanford Canton-Inwood service area; supporting Sanford Canton-Inwood, which includes Sanford Canton-Inwood Medical Center, Sanford Canton and Inwood Clinics and Sanford Hiawatha Heights assisted living, as important community assets; and providing financial assistance for the education of future health care professionals through scholarships and grants.
To date, the Foundation has provided financial support for the purchase of a new, state-of-the-art ambulance, new x-ray imaging equipment at Sanford Canton-Inwood Medical Center, numerous scholarships and a multi-million dollar donation to the expansion and renovation of Sanford Canton-Inwood Medical Center. In addition, tens of thousands of dollars have been distributed to deserving community projects through the Heart of the Community Health and Wellness grant program.
For more information about the Sports Banquet or Canton-Inwood Area Health Foundation, contact Brendyn Richards at (605) 764-1495.