News
2014 Golf Tournament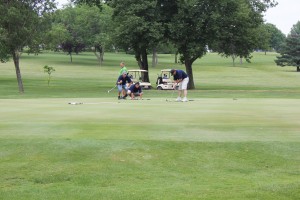 Golf Event Benefits Health Foundation
The 2nd Annual Canton-Inwood Area Health Foundation Golf Outing was held at Hiawatha Golf Club on July 11. The event was held to support the Canton-Inwood Area Health Foundation. With 14 teams participating, over $6,000 was raised.
For the second year, the Johnson Feed team, consisting of Mitch Johnson, Todd Johnson, Chuck Larsgaard and Brian Alden, took home the overall first place prize and bragging rights for the year.
Second place in the first flight was earned by the Security Savings Bank team.
First place in the second flight division went to the team from Electric Supply Company.
"We had a great turnout and a great day for the 2014 Canton-Inwood Area Health Foundation Golf Outing," said Foundation Director Brendyn Richards. "Thank you to our sponsors, teams and all involved."
Sponsors of the 2014 CIAHF Golf Outing include Sanford Health, Hoogendoorn Construction, Howe Heating & Plumbing, Adams Thermal Systems, Architecture Incorporated, Electric Supply Company, Haisch Pharmacy, Security Savings Bank, Canton Dental Clinic, West Lyon Herald/New Century Press, JCL Solutions, Eide Bailly, Home Federal Bank, First American Insurance, Taco John's/KFP Enterprises, G&R Controls, Inc., Fellowship Village, Farm Country Trader/Car & Truck Trader, Little Chubs, Faber Farm Equipment, Sunshine Foods, Hilltop Cabinets, Fossum & Bindert, LLP, Frieberg, Nelson & Ask, Canton Home & Farm Supply, State Line Insurance Bruggeman Realty and H&H Repair.