Scholarships & Grants
2013 Scholarship Winners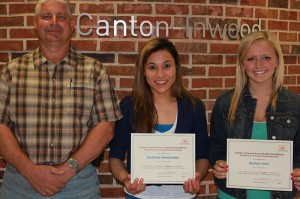 Hernandez, Sehr win Canton-Inwood Area Health Care Foundation Scholarships
In an effort to support the future of health care, the Canton-Inwood Area Health Care Foundation created a scholarship that will be awarded annually to a deserving student who is pursuing an education in health care.
The 2013 Health Care of Tomorrow Scholarship has been awarded to Heather Hernandez and Kaylee Sehr.  Each received $1,000.
A 2013 graduate of West Lyon High School, Heather desires to become a nurse. She will attend Northwest Iowa Community College in Sheldon. "My goal is to someday work as a pediatric nurse or neonatal nurse. I would enjoy either job because it involves the joy of caring for and nourishing children to a good and safe state of health," wrote Heather in her application.
Kaylee is a 2013 graduate of Canton High School. While at Canton High School, Kaylee was involved with Dance Attack, bowling, softball, cross country, golf and prom committee.
She plans to attend the University of South Dakota majoring in Dental Hygiene. "One of the most inspiring things that led me to this decision was the fact that I will be able to interact with a variety of people on a daily basis," said Kaylee in her application.
"One of the goals identified by the Foundation Board of Trustees is to provide financial assistance towards the education of future health care professionals through scholarships and grants, " said Foundation Director Brendyn Richards. "We are very happy to meet that goal by awarding these qualified recipients with the2013 Health Care of Tomorrow Scholarships."